2 Way & 3 Way Actuated Ball Valves
Unimizer® 2 & 3 Way Actuated Ball Valves
Sizes 1/2″ – 6″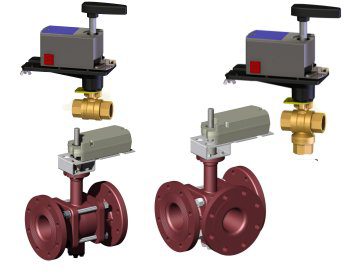 Accuracy: The Unimizer® eliminates inaccuracy in ball valves. This is made possible with the technology of the Griswold parabolic flow OPTIMIZER®, a device inserted into the ball to achieve Equal Percentage Control Characteristics.
Lower Cv Ratings: Why choose a ball valve over a globe valve? With the Unimizer® you can achieve the low Cv ratings of a globe valve at the low price of a ball valve. You can get the added benefit of higher close off pressure.
Compatibility: The Unimizer® is available in Female or Sweat threaded end connections. The Unimizer® sets the standard for compatibility, and Griswold's Universal Solution offers the widest range of actuator choices in the industry.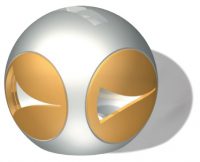 Griswold Controls' Patent Pending 3 Way Ball: Many manufacturers settle for providing non-equal percentage control to the coil, or they achieve equal percentage control by using a costly, custom programmed actuator. Griswold Controls' Unimizer® achieve true equal percentage flow from the parabolic shape of the Optimizers® located at each port, thereby allowing the use of any standard, low cost actuator.
Recommended Applications:
Where actuated ball valves or globe valves are used to control the flow
Where mixing and diverting capabilities are required
For hotels & schools; air handling units, equipment rooms, and pipeline products
Unimizer® Specification Sheets & Product Information
Installation, Operation, and Maintenance Materials
| Form# | Description |
| --- | --- |
| F-709 (PDF) | Installation, Operation and Maintenance |
Erie PopTop™ Zone Valves
Temperature Controllers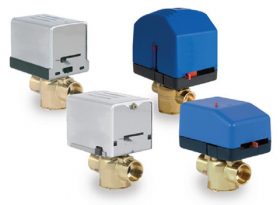 Erie's motorized hydronic valves, the PopTop™, provide convenient, reliable and easy installation for a variety of heating and cooling applications. Installation is a snap with easy, one-handed removal or engagement of the actuator to the valve body. Push the button and lift. It's that simple.