Meet Our Founder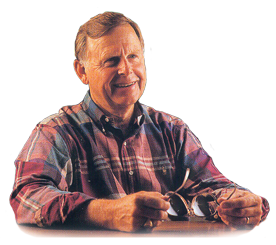 In Memory of Mr. David Griswold
David Griswold's legacy lives on through the strong foundation he built for our company. His spirit will continue to be the spark of passion and inspiration for innovation. The story of Griswold Controls begins long before the company's inception on October 16, 1960 and continues to drive our true north to this day.
Innovation at an Early Age
Before age 5, David Griswold watched and helped his father develop hydraulic products. David and his brother would leave the lawn sprinklers running too often and long so David's dad developed the first diaphragm valve (Clayton Valves) and timer control which became the first automated lawn irrigation system. David's future as an engineer with a never-ending passion to solve the world's problems began.
David began his journey as an entrepreneur at age 8 raising cocker spaniel puppies.  At age 11 he supplied the family with goat's milk. In the seventh grade, after reading about Robert Fulton, he asked his father to build a steam engine for a go-cart. This led to a project of building a radial steam engine that turned into a hydraulic motor product line (with no go-cart) and a new company. David left college as a sophomore to continue his work with this company.
In 1948 his father acquired the Clayton valve division and formed Cla-Val Company. David worked closely with his father as the number two in command until they became "two cooks in the same kitchen".  David resigned in 1956 to form an independent but complementary company however, the "two cooks" situation led to turning this company over to Cla-Val at the end of 1959.
Griswold's Early Years
David started Griswold Controls early in 1960 with a staff of 3 ½ employees out of his home in Costa Mesa, CA. He incorporated the business on October 16 of that same year. Every room of his house served as a different functional area with the garage serving as R&D as he developed the stainless steel automatic flow limiting cartridge, the heart of Griswold Controls automatic valves. Since the water pressure in his home wasn't high enough to fully test his design he "borrowed" water from the nearby fire hydrant and the cartridge designs were perfected!
Beginning with a line of automatic flow limiting valves built around David Griswold's automatic cartridge, the company became universally known for its state-of-the-art, quality product used in hydronic HVAC systems.