Manual Balance Valves
QuickDisc®, QuickSet®, and SpeedSet Manual Balance Valves and Metering Stations
Sizes: 1/2″ – 20″
The QuickDisc®, QuickSet® and SpeedSet are manual balance valves that include brass venturi inserts for flow measurement and graduated memory stops for flow setting. Valves are available with multiple end connection options including a union end connections. The QuickDisc® valve uses a ceramic disc to control the flow and the QuickSet valves uses a ball to control the flow. Click here to see a video showing the ceramic disc's performance.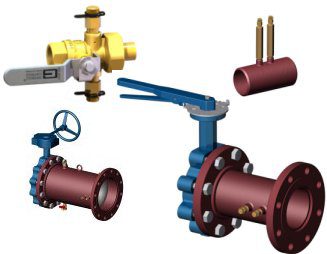 The 2-1/2″ to 20″ QuickSet and Metering Stations are equipped with a Quadrant Peizo Ring with four sensing ports for more accurate throat signal. No straight runs are necessary for normal operation. With the addition of a butterfly valve for shut off, the 2-1/2″ to 20″ Metering Station becomes a full functioning QuickSet Manual Balance Valve with memory stop for full accurate flow adjustment. Valves with accessory ports for additional accessories also available.
Recommended Applications:
Where a simple solution is needed for proportional or static balanced system with constant speed pumping
Where flow balancing, flow metering, and shut-off are desirable in one valve.
Where optimum system flow balance is required using minimum horsepower
SpeedSet™ Manual Balance Valves  
Sizes: 1/2″ – 2″

The SpeedSet manual balance valves include a brass orifice for flow measurement and multi-turn handwheel for flow setting.
1/2″ – 2″ QuickSet and Metering Station Specification Sheets and Literature
1/2″ – 3/4″ QuickDisc® Specification Sheets & Literature
2-1/2″ – 18″ QuickSet and Metering Stations Specification Sheets
| Form# | Description |
| --- | --- |
| F-4408 (PDF) | Grooved End QuickSet Manual Balance Valve/Metering Station |
| F-4407 (PDF) | Flanged End QuickSet Manual Balance Valve/Metering Station |
| F-4094 (PDF) | QuickSet Manual Balance Valve Color Brochure |
| F-4406 (PDF) | Weld End QuickSet Manual Balance Valve/Metering Station |
| F-4439 (PDF) | QuickSet Manual Balance Valve Flow Chart |
| F-4218 (PDF) | Electronic Flow Transducer |
| F-5625 (PDF) | Disturbed Flow Measurement +/- 1% Accuracy with No Straight-Run Pipe |
| F-4397 (PDF) | Written Performance Specifications For Manual Balance Valves |
2-1/2″ -20″ BTU Meter Specification Sheets
| Form# | Description |
| --- | --- |
| F-4397 (PDF) | Written Performance Specifications For BTU Meter |
1/2″ – 2″ SpeedSet™ Manual Balance Valve Specification Sheets
Installation, Operation, and Maintenance Materials
| Form# | Description |
| --- | --- |
| F-709ZF (PDF) | Flow Control Installation, Operation, and Maintenance |
| F-5595A (PDF) | BTU Meter Installation, Operation, and Maintenance |
| F-5632 (PDF) | SpeedSet™ Manual Balance Valves Installation, Operation, and Maintenance |
| F-4086 (PDF) | Meter Kit |