Perdue School of Business Chilled Water
Improved efficiency of the chilled water system at the new Perdue School of Business at Salisbury University through the use of PIC-V and MVP valves.
Project: Salisbury University | Perdue School of Business
Location: Salisbury, Maryland
Architect of Record: RCG, Inc.
Associate Architect: Perkins + Will
Mechanical Engineer: Mueller Associates, Inc.
Griswold Controls Representative: Hydro Tec
Author: Brad Walker
This project included construction of the new Perdue School of Business and supporting infrastructure for Salisbury University. The facility includes approximately 112,800 square feet providing various classroom, assembly, labs, administrative and general use areas to support current and projected undergraduate, graduate and executive education programs. This project expects to be awarded a Leadership in Energy and Environmental Design (LEED®) Green Building Gold certification.
The chilled water system is variable primary flow consisting of two 150 ton McQuay magnetic bearing variable speed chillers at a 50/50 load split, two cooling towers with variable speed fans, two redundant variable speed chilled water distribution pumps, and three condenser water pumps, one as a common backup. The system serves various air handling unit (AHU) and fan coil unit cooling coils. The AHUs chilled water is controlled by Griswold Controls Pressure Independent Valves, PIC-V and MVP valves.
The Air Distribution Systems consist of five Variable Volume AHUs with zone reheat coils and one Single Zone Variable Volume AHU. AHUs 1, 4, 5 and 6 are all similar and serve either classrooms, offices, or general areas. These air handling units all have variable volume static pressure controlled supply fans with volumetric return fan tracking, energy recovery wheels, preheat coils, chilled water coils, air side economizers, and demand controlled ventilation. AHU-2 serves the auditorium only. It has a variable volume temperature controlled supply fan with volumetric return fan tracking, a preheat coil, chilled water coil, reheat coil, air side economizer and demand controlled ventilation.
Questions about this application? Contact info@GriswoldControls.com or 949.559.6000
PROJECT: ANALYSIS OF CHILLED WATER SYSTEM ∆T FROM 8/12 TO 9/13
Tim Jones, the resident operations engineer for the University, provided systems data collected through the Building Automation System (BAS). The load profiles were examined for over a year at conditions from 20% thru 100% chiller capacity. Mr. Jones manages 22 buildings and stated "this system meets our most demanding needs for efficiency and performance."
These observations are supported by the chilled water system actual temperature difference being more than 20% higher than the design of 16ºF ∆T. The chilled water system operates at an average 20ºF ∆T; the design for 1.5gpm/ton (16ºF) was reduced to 1.20 gpm/ton (20ºF) gpm per ton. Every metric that was analyzed exceeded projections. The AHU fan speeds were stable with precise load tracking control. The stability of the chilled water system temperature difference through varied AHUs supply airflow and chiller capacity is what can be expected with Pressure Independent temperature control valves. The design engineer Todd Garing, PE at Mueller Associates said. "We specified pressure independent control valves and designed for a high chilled water temperature difference to improve energy efficiency and reduce pumping energy specifically. The gathered data supports the performance of the system to deliver consistently high temperature differential at varied load conditions."
The onboard chiller screens shown in Appendix A were typical throughout the case study. These screens were actually recorded on a humid 90 degree day. See Appendix B for supporting information with graphs of the data collected during the study. The stability of the system under all load conditions were proven on every occasion from startup to full load.
This case study was coordinated by the Griswold Controls representative in Maryland in conjunction with Oscar Walker of Green Shoots Controls.
Griswold Controls Representative
Hydro Tec
Brad Walker (410) 404-6647
bwalker@hydrotecinc.com
greenshootscontrols.net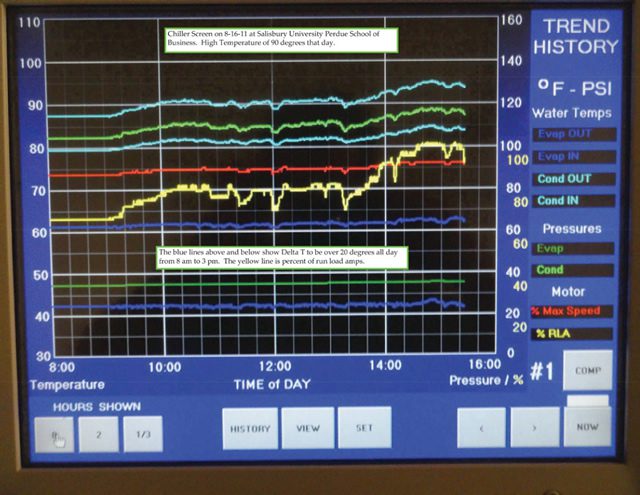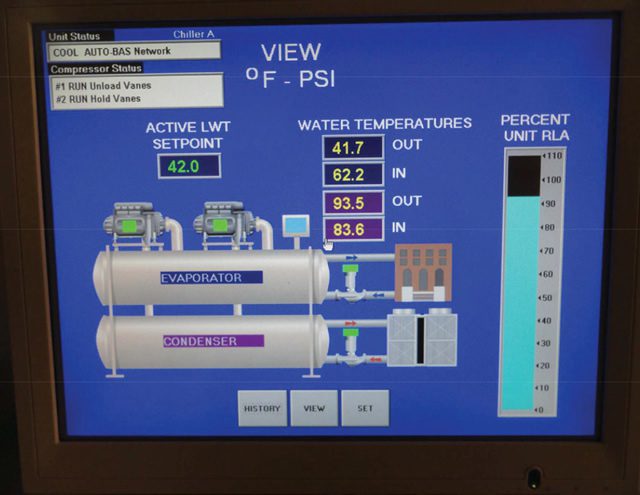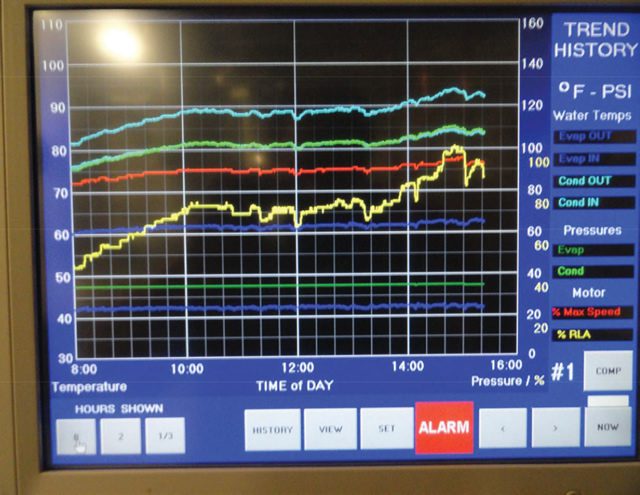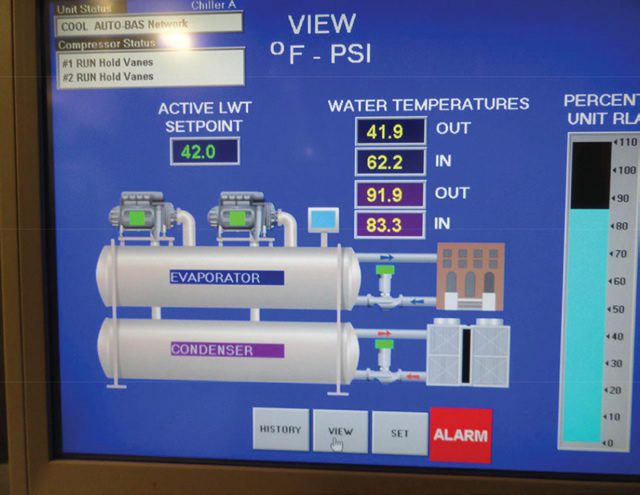 Graph Terms
CWGPM% – Chilled Water GPM Percentage
CWSY ΔT- Chilled Water System Delta T
Chiller Capacity % – Chiller Capacity Percentage
OATF – Outside Air Temperature Fahrenheit
OATH% – Outside Air Temperature Humidity Percent
SAF FVD Avg % – Supply Air Fan VFD Average Percent
LAT WB-F – Latent Air Temperature Wet Bulb Fahrenheit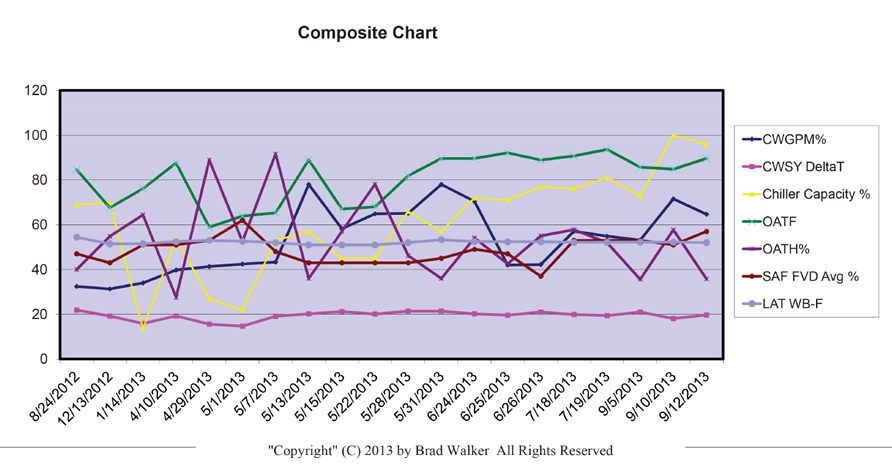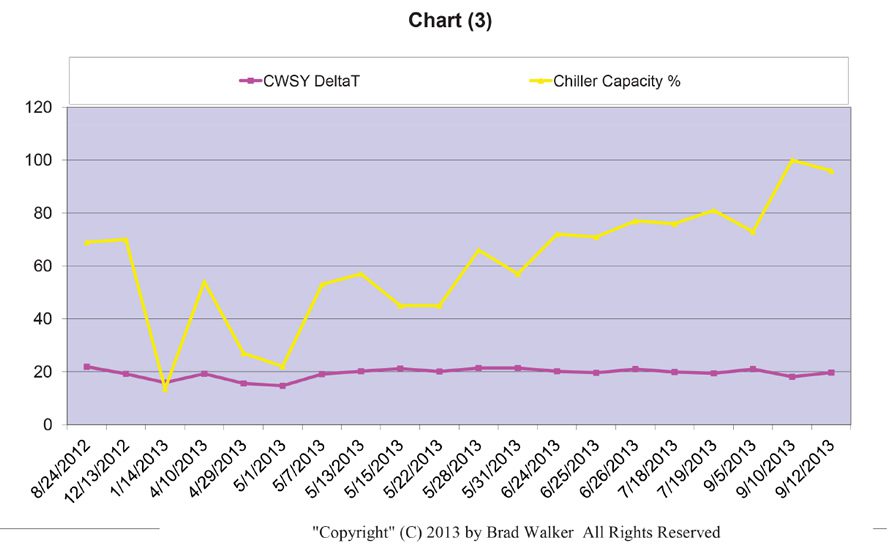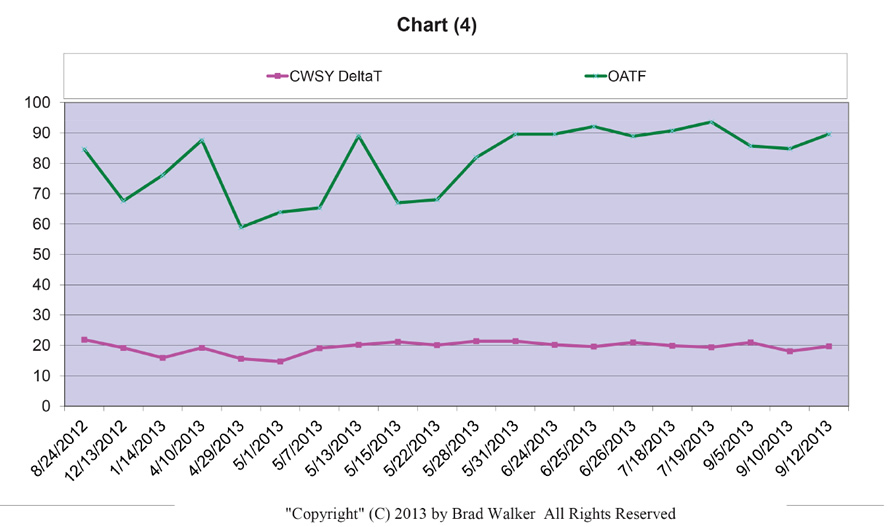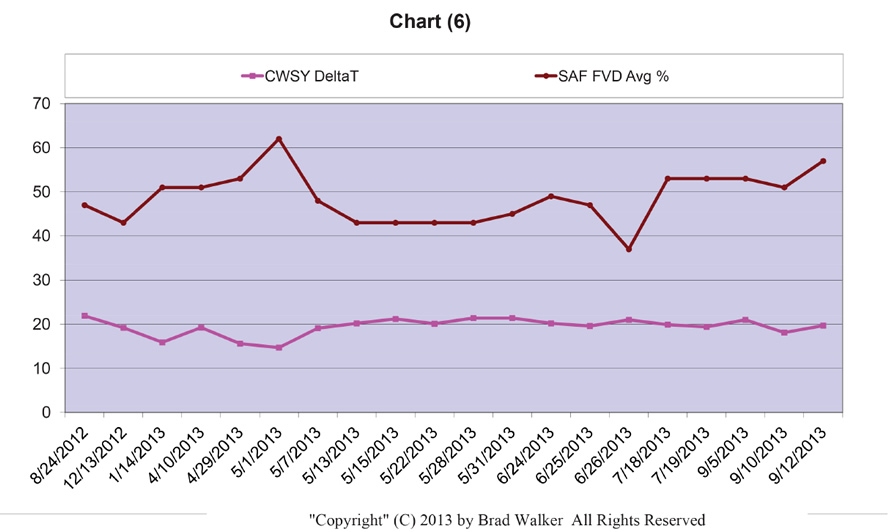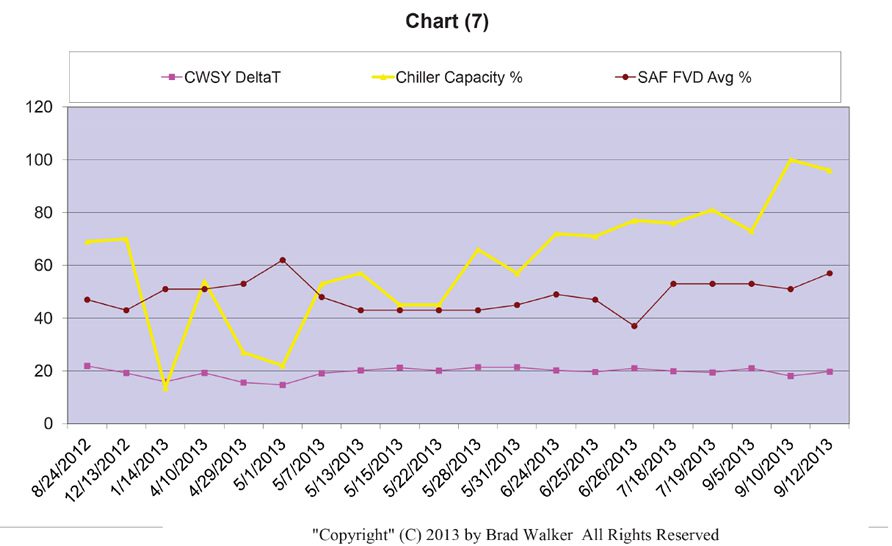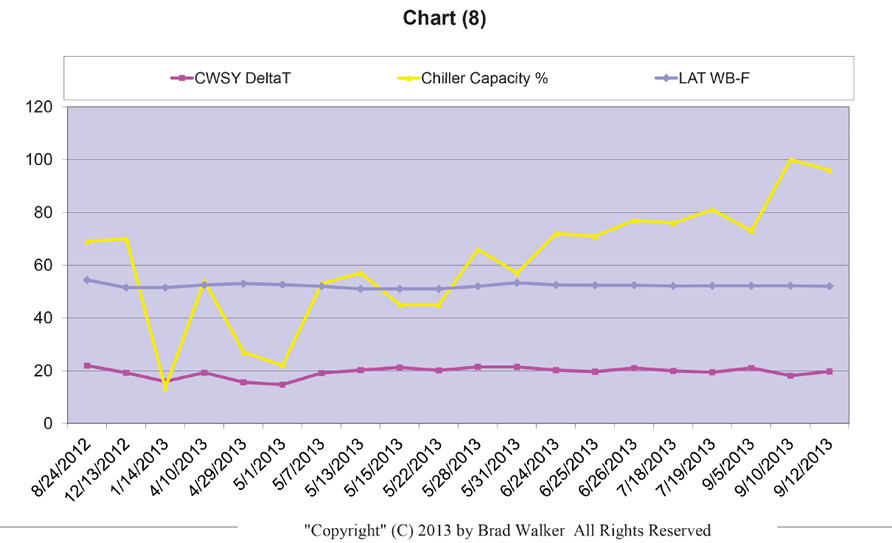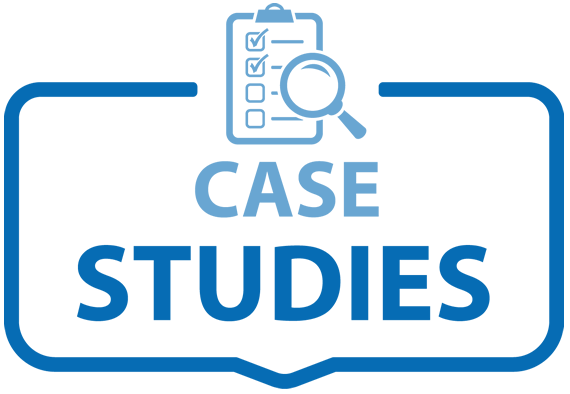 Have a question about this or another Griswold Controls Case Study? Fill out the form below and someone from Griswold Controls will get back to you shortly.